...you may become partakers of the divine nature.

—2 Peter 1:4
What should be the role of the liberal arts and great books in the Christian life? The Apostle Peter gives us a helpful framework in the first chapter of his second epistle: The end of our human trajectory, the goal that the Christian lives to attain, Peter says, is God's "own glory and excellence" (v.3). Not a decent job, not a peaceful state, but glory—splendor. "For this very reason," he adds, "make every effort to supplement your faith with virtue, and virtue with knowledge" (v.5). We can infer from this passage that virtue and knowledge, wherever they may be found—the arts of the Trivium, the plays of Shakespeare, the elements of research—aid us in our journey toward a restored splendor. The Christian student will one day "[partake] of the divine nature," but he can also grow in glory now; she can pursue splendor presently (v. 4). Our Lord will save us "through [...] his precious and very great promises," and when we encounter the gifts of the ages, we can begin our walk toward that promised life today: a restored humanity that is virtuous and wise.
For Peter, virtue and knowledge aren't themselves our salvation, but they keep the glory-bound from being "ineffective or unfruitful" (v.8). Formative Christian education doesn't save young men and women, but it does help them flourish. It makes them more glorious. Consequently, we are not flippant with the question of whether little Johnny will get a job once he graduates from college. But we are concerned about a lot more than a career—because Johnny is more than a worker; he's a worshiper, and he's getting ready to add his voice to the Song of the Lamb.
If education is preparation for glory, then even the small successes at school, the victories that aren't culture-shaping, that don't have radical social impact, are nonetheless good in themselves and preparatory for something greater. A well-written thesis statement is a taste of future glory. An epiphany with Dante is a hint of what's to come. A memorized sonnet intimates a waiting excellence.

If the liberal arts and great books are preparation for glory, then now is the prelude.
Powered by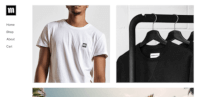 Create your own unique website with customizable templates.